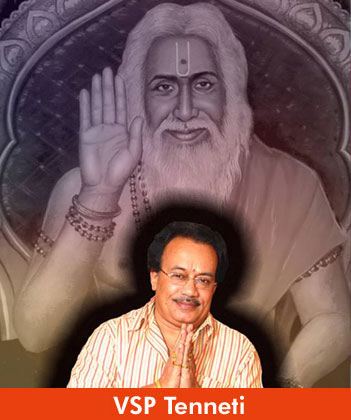 Kumbha Ganapathi
(The only one and half hour mini workship a flash course)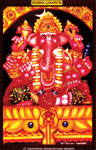 Meditation a celebration! Initiation an inspiration!!
Chitraaditya Kumbha Ganapathi - Sadhana, Amazing mantra tantra activation!
Inclusive of rare Kumba Ganapathi photograph and Handouts.
No age limit. No restrictions. No barriers of caste creed or religion. Regular morning & evening batches. One and half hour only. Any one who have absolute faith in spirituality, Guruparampara and its traditional system are welcome.
This mantra sadhana acts as a divine tool to achieve absolute concentration and gives you satisfaction. Attain inner silence. This is a highly reformed, perfected, proven sadhana.
Meditation for all. Very simple! yet dynamic! Very easy! but powerful!
Chitraaditya Kumbha Ganapathayae Namaha! - You have to do it to believe it.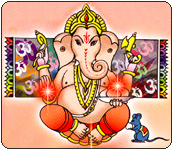 Yes, there is a sudden, shift in the cosmic consciousness and spiritual awareness. The entire universe is changing, come, let us embrace the holy inner manifestation. It is really impossible for one to choose the path of spirituality until the omnipotent graces to knock our doors.
Take care you don't miss the wonderful opportunity to change. A life full of Stress, Tension, Emotion, Speed, Manipulation, Politics, Criticism, Insecurity, Fear, Anxiety, Worry, Insufficiency, Disharmony, Confusion, Fickle mindedness, Chaos and Disorder requires a divine helping hand to stand beside us to Shield, Protect, Guide, Manifest and perform miracles.
Dizolve, ultra-k Meditation Bank, the ashramic organisation a dynamic chapter of Theosophia Shyamanthaka Mission,pioneers in spiritual education, orginators to the most popularly, practiced Arkavidya, Shyamanthaka Vidya, Vedasahasrapat, Baala Kanda, the advanced forms of Sooryopasana continuously strives to provide the best and qualitative remedies.
There are three extra - ordinary remedial measures for all sorts of problems-meditation, meditation, meditation.
The chitraaditya! Kumbha Ganapathi Sadhana emphasises upon meditation, the great mission as a way of life.
One of the few very secret ancient forms of Ganapathi Sadhana, which the great Sooryopasaka Chitraadjtya accomplished was the amazing Kumba Ganapathi Sadhana.
The secret intiation breaks the barriers of Anantha Sodhana and takes the sadhana towards astounding peaks of awakening.
Our ascended master Sanchaara yogi Shree Shree Shree Adithya Poornaananda Swamiji, known as Nandu Baba guided few of his chosen disciples into Kumbha Ganapathi Sadhana in order to appease Sooryanarayana. This is one of the success strategies that triggers the, dormant serpent power in the root chamber of the human body. It vibrates, channelises, activates and boosts the Athirahasya Kundalini powers.
This is a flash course in the form ofa mini workshop which gives basic information, clarity about understanding mantras, tantras, sadhana and meditation techniques imparted through very powerful initiations. The student is required to practice regularly for at least half an hour a day.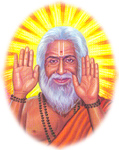 Kumbha Ganapathi Moola Mantra along with the sankalpa mantra, maala mantra, vakmantra, prayoga mantra and avaahana is imparted to the sadhak. The necessity of a true guru and his role of a tourist guide is clearly explained.
"It is the whole process of emptying, that is wrongly termed as meditation itself. Hence, learn the difference between intentional and non ' intentional doing reach the stage on Non ' Doing".
Kesharamithra Shri V. S. P. Tenneti, the multi-faceted personality, very popular and powerful spiritual counselor, is immensely involved in propagating the age old vedic and yogic secrets of Sun worship, the Mahashyamanthaka Vidya, which begins with Arkavidya. He had been an efficient teacher friend, philosopher and guide to thousands of people. He attributes the whole credit to his ascended master, Sadguru Adithya Poornaananda swamiji popularly known as Nandu Baba and many great miraculous gurus who initiated him into thousands of mantras and mudras. He is a great devotee of Goddess Vaagdevi, Ayyappa and Soorya Bhagavan. He is open, inspiring, dynamic, enthusiastic and people love to be in his warm company. Winner of several awards, laurels, appreciations and testimonials for his amazing performance in different fields. He is fluent in English, Hindi and Telugu and the students enjoy his workshops regularly conducted all over the country. Even his experienced dedicated students have begun conducting workshops independently after attaining Gurumithra stage, the mastership level. He is keenly bent upon spreading our age old vedic spiritual and philosophic knowledge for the highest good. Experience his aurazone and you will feel the healings happen.
Register in faith, do it with devotion, with total willingness.