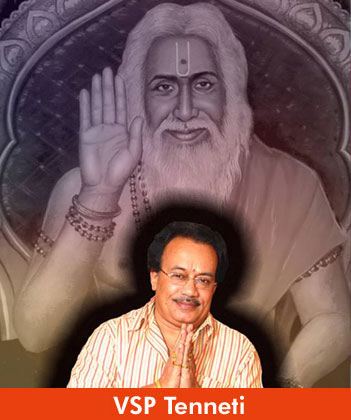 The Response
I am on my way to Antharmukhi

I was very much attracted to the caption, Transform yourself into an Antharmukhi and I attended the beautiful introductory session at Bhaskara Auditorium of the Birla Planetarium. It was one and a half hour of an intro class and I was highly impressed. I immediately paid an advance and registered for the workshop. Arkavidya is amazing. My attitude changed totally. I experience wonderful moments of my previous janma. My angry behaviour is no more. I am now more adjustable in my family. My chakras vibrate well and all my friends say that my skin is glowing. I am now proud to be called a Mithra and a disciple of Mr. Tenneti who is a real master of the season and time.
Arkavidya improves concentration

I feel Arkavidya has to be introduced to every school going child. My son pursuing his ninth class studies had joined Arkavidya and his concentration power seems to have increased very well. He is now-a-days scoring well and also is more incline towards education than wasting time for petty things.
TopArkavidya changed my life style

My skin problem is solved and my relationship with my in-laws is smooth and fine. I was always in frustration and fear. After Arkavidya my life style changed completely. I shall also learn Shyamantaka Vidya. I bow down to Gurumithra V.S.P. Tenneti guru.
Financial Rise

I am feeling very proud to call myself an Arka student because it is unbelievable but true that my financial status has improved and my liabilities are almost cleared, I am waiting for the Arkavidya Master ship Session.
TopArkavidya Brings Abundance

My wife and I have finished Arkavidya and we have only one thing to say - Arkavidya is a must for every spiritual minded person and ArkaVidya will bring abundance.
I experience wonders

I do not have words to explain the wonders I am experiencing frequently, after Arkavidya initiation. I am thankful to Guru Mithra Shri Tenneti for the same.
I am bold now

I was always afraid of facing public. ArkaVidya made me a public speaking personality. My colleagues are surprised to find my communication skills improve. They even say that I am looking bold and strong now. The credit goes to Mr. V.S.P, Tenneti, Nandu Baba and also Smt. Sudha Ranbi who introduced me to the course.
TopGoldenOpportunity

My wife forced me to join Arkavidya and I couldn?t say no to her, but if I had said so, I would not have the golden opportunity to learn the all powerful manthras, mudras and healing techniques of Arkavidya. I experience success and prosperity in my life radiantly well.
Different

I am a master in many esoteric sciences like REIKIOMNI Healing etc. But Arkavidya is totally different. I love Arkavidya.